INTRO OFFER
Click here
MANAGING A VIRTUAL UN1T STUDIO
March 2, 2021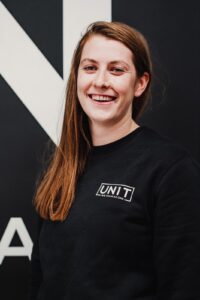 I could never have imagined when I joined UN1T as studio manager two years ago that I would spend half of that time managing a virtual studio! Since we closed our doors for the first time due to COVID-19 on 19th March 2020, my role of studio manager has changed vastly. Suddenly, I was not so bothered about emptying the towel bin and stocking the fridge full of drinks for our Friday night UN1TY sessions, but more concerned over the space of our trainers living rooms.
The key elements of maintaining a UN1T studio are still very much present: member and community relations and ensuring smooth operations of classes. However, there is perhaps more emphasis on the importance of sustaining the community and ensuring that the morale of both your members and your staff is kept high. This, has of course, been challenging given the ongoing difficulties that we have all faced professionally and personally over the last year.
With regards to our community and member base, we have taken comfort in the fact that for many of them, the online classes and services that we run have brought some solace to their lockdown life. Our community is our foundation at UN1T and we owe a lot of thanks to the members who come to the studio day in and day out. It has therefore been very important for us to be there for them during the last year.
We have continued our UN1TY style sessions where members compete with each other virtually every Saturday; we have encouraged them to run with each other in our Friday #RUNWITHABUDDY specials and tried to maintain the same enthusiasm and positive vibes in our sessions at home as we do in the studio. As a result , we have maintained a strong community throughout this period that we are incredibly grateful for and proud of – and we cannot wait to introduce them to our brand new studio in the coming months.
The day to day running of UN1T TV live classes was initially a big challenge – very few people enjoy home workouts – and so it has been our mission over the past year to change this perception and inject some fun and creativity into our sessions. From the second lockdown in November, we gave members the opportunity to rent equipment from our studio. This has enabled us to programme more varied sessions than if we were constrained to bodyweight only workouts. We hope that, our members have enjoyed UN1T TV live home workouts a lot more than they thought possible and with many more people working from home for the foreseeable future it is something we will continue in some capacity, even when gyms are open again.
Although I cannot wait to get back to the studio and see our members in person, training alongside them and seeing their smiling faces at the front desk, managing the virtual UN1T studio for the past year has been an experience and learning curve I won't forget. It has shown me how strong our community is and how versatile and strong we can all be when overcoming adverse situations.
7 DAY TRIAL
Start training with us today, and understand how we can help you build strength, muscular endurance and mobility.
251 Southwark Bridge Road,
London, SE1 6FJ